Hannah and Clay's invitation suite was just like their love story, it was one for the ages.
I had such a blast getting to create this custom suite for Hannah, one of the sweetest brides you will ever meet. It is rare that someone just oozes joy, but Hannah is absolutely one of those people! She is genuine and thoughtful, full of beauty and grace and I was just thrilled to get the chance to tell their story through the art of paper. 
Hannah and Clay had the perfect June wedding at Houston's in Brookland, Arkansas. Houston's is nestled back off the main road in the up and coming area of Brookland. It is a gorgeous, stately, southern style venue. Complete with a large porch, white columns and a beautiful dark wooden door. This venue served as the perfect blank canvas for Hannah to really make this day her own.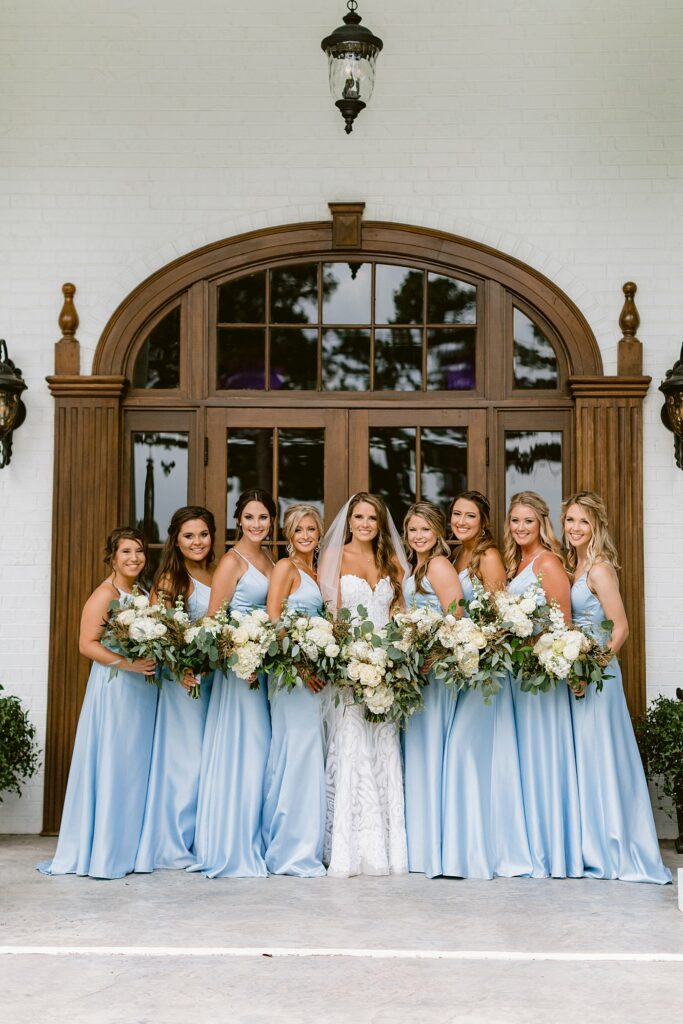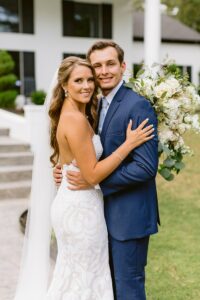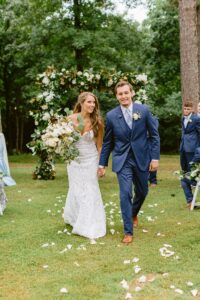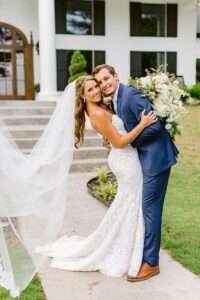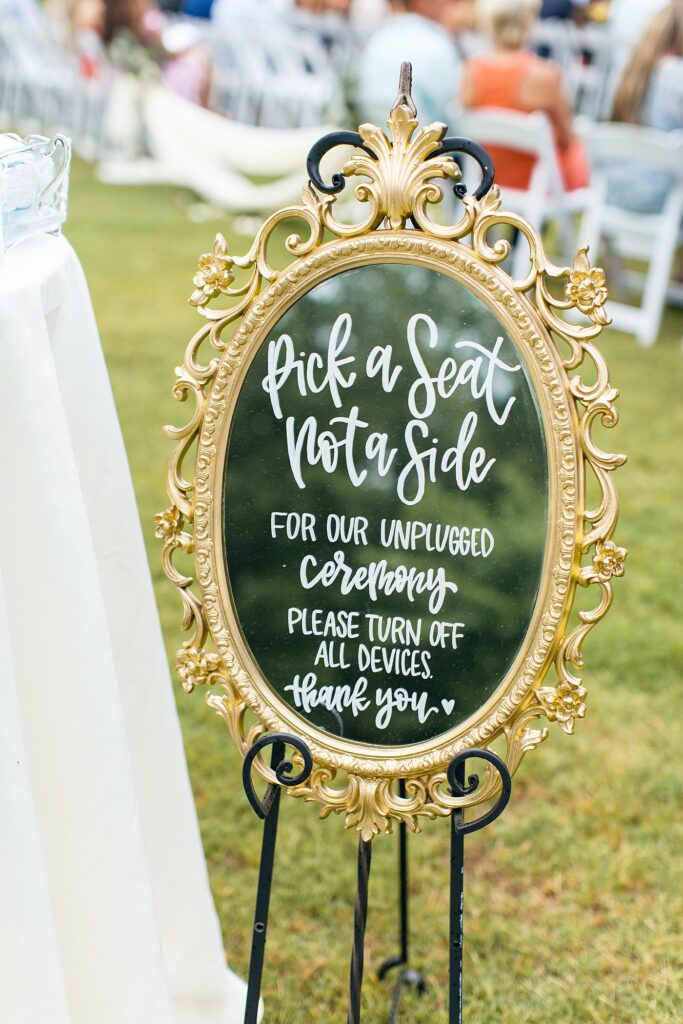 When Hannah and I first started brainstorming what her suite could look like, she mentioned that she wanted something timeless and elegant. That classic feel with a sweet, southern twist to it. Their suite featured a rounded edge die-cut formal invitation and insert card digitally printed on a double thick smooth white paper stock, tucked into a light blue euro-flap envelope. The digitally printed blue ink was the perfect color match to really take the whole thing to another level. We added on the white ink envelope calligraphy and it just elevates the suite that much more. It's that extra, hand written personal touch for your guests.
THE  SUITE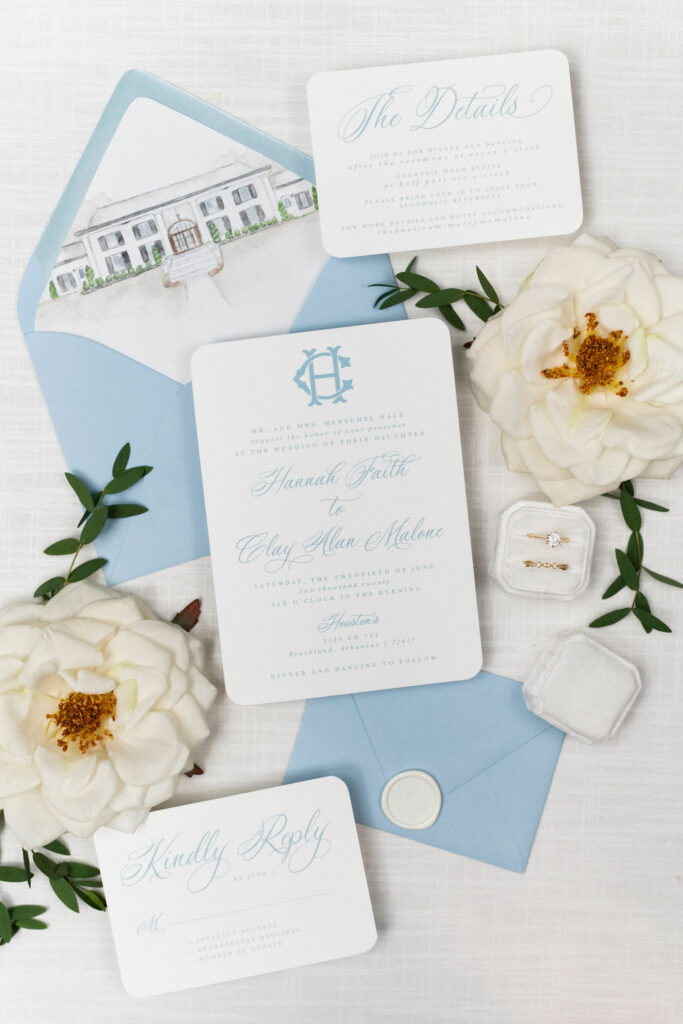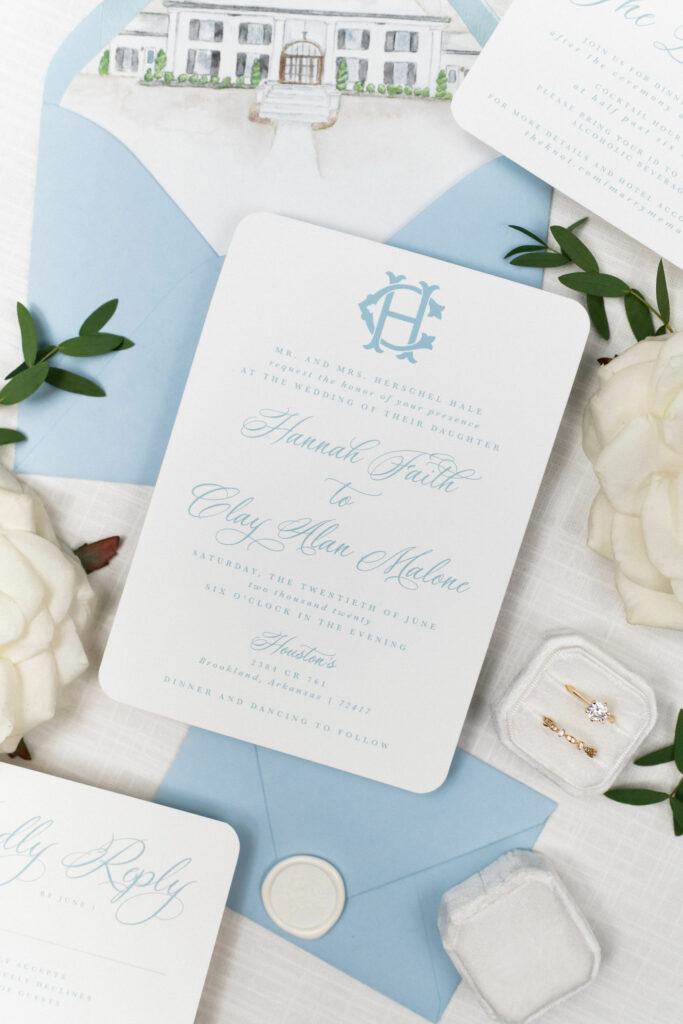 While I was designing, I kept the timeless vibe at the forefront of my mind. I chose a beautiful script typeface that pairs well with the custom interlocking monogram. One of my favorite things is to gently nudge a bride to unlock their own creativity and Hannah did just that! She was able to seamlessly weave the custom monogrammed design and use it throughout the entire wedding day! I am here for a completely cohesive wedding day. I affectionately call this "Cohesive Couples Branding." Where every single detail is thoughtfully considered. All the way down to the custom sugar cookies. I mean, COME ON, so stinkin' cute.